Electric scooters have become an increasingly popular mode of transportation, offering convenience, portability, and an eco-friendly alternative to traditional vehicles. Among the many types of scooters available, 2 seat electric scooter for adults offer a unique advantage – they allow two riders to share the experience, making them a great choice for couples, friends, or caregivers who need to accompany seniors or individuals with disabilities. In this blog post, we'll explore the key features, benefits, and top manufacturers of 2-seat electric scooters for adults.
    Key Features Of 2 Seat Electric Scooter For Adults
Battery Life and Range: A good 2-seat electric scooter should offer a battery range of at least 15-20 miles, ensuring riders can enjoy their trips without worrying about recharging. The battery life varies depending on the scooter's motor, weight capacity, and terrain.
Top Speed: Most 2-seat electric scooters have a top speed between 15-20 mph, providing a comfortable and safe ride for both riders.
Weight Capacity: A typical 2-seat electric scooter can support a weight capacity of around 300-500 lbs, making it suitable for riders of various sizes.
Motor: A powerful motor is essential for a smooth and efficient ride. Look for motors with at least 48V and 500W for optimal performance.
Foldability and Portability: Many 2-seat electric scooters feature foldable designs, making them easy to transport and store. Some even come with a carrying handle for added convenience.
Suspension and Terrain: For a comfortable ride, it's essential to choose a scooter with front and rear suspension, as well as tires suitable for various terrains, such as grass, gravel, and pavement.
Benefits of Getting a 2 Seat Electric Scooter For Adults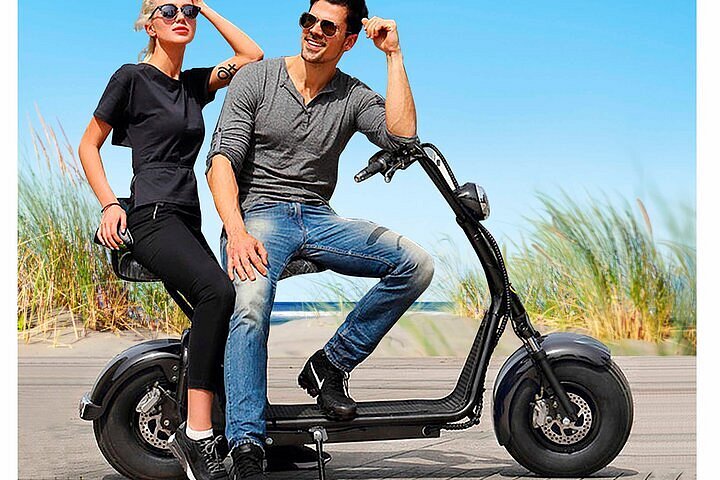 Independence and Mobility: For seniors and individuals with disabilities, 2-seat electric mobility scooters offer a convenient way to regain independence and enjoy an active lifestyle. They can easily navigate through various outdoor environments and tackle different terrains with ease.
Social Interaction: The two-seat design allows riders to share their journey, fostering social interaction and companionship.
Environmentally Friendly: Electric scooters are an eco-friendly alternative to traditional gas-powered vehicles, producing zero emissions and reducing one's carbon footprint.
Top Manufacturers of 2 Seat Electric Scooters for Adults
Pride Mobility: A leading manufacturer of mobility scooters, Pride Mobility offers a wide range of 2-seat electric scooters with various features and capabilities.
Drive Medical: Known for their high-quality medical equipment, Drive Medical produces a selection of 2-seat electric scooters, including heavy-duty and lightweight options.
Golden Technologies: This manufacturer offers a diverse lineup of 2-seat electric scooters, including compact and rugged designs suitable for outdoor use.
EV Rider: EV Rider specializes in innovative electric mobility scooters, including 2-seat models with advanced features and sleek designs.
Important Considerations When Purchasing a 2-Seat Electric Scooter
Warranty: Ensure the scooter comes with a manufacturer warranty covering at least 1-2 years, providing peace of mind in case of any defects or issues.
Shipping and Return Policy: Look for retailers offering free shipping and a reasonable return policy, allowing you to test the scooter and return it if it doesn't meet your expectations.
Customer Support: Choose a manufacturer with a strong reputation for customer support, ensuring you can access assistance if needed.
User Reviews: Read customer reviews and testimonials to gain insight into the scooter's performance, reliability, and overall satisfaction.
Conclusion
A 2-seat electric scooter for adults is a fantastic investment for those looking to enhance their mobility, enjoy the outdoors, and share their riding experience with a companion. With a range of features, such as battery life, top speed, weight capacity, and terrain adaptability, these scooters are designed to cater to various lifestyles and needs.
By choosing a reputable manufacturer and considering factors like warranty, shipping, return policy, and customer support, you can confidently select the best 2-seat electric scooter for you and your riding partner. Ultimately, investing in a quality 2-seat electric scooter will empower you to maintain an active lifestyle, foster social connections, and promote eco-friendly transportation.